United Arab Emirates Citizenship by Investment
TCME – worldwide Group & Global Citizenship Investment (GCI) helps and focuses on high net worth individuals and their families migrate to some of the world's most welcoming, prosperous and safe countries through . We work in tandern with financial institutions and a trusted network of internationally respected experts inimmigration law to navigate and streamline the immigration process.
United Arab Emirates
Provisions allowing foreigners to acquire the Emirati nationality In January 2021, the UAE Government approved amendments to the 'Executive Regulation of the Citizenship and Passports Law' allowing specific categories of foreigners, their spouses and children to acquire the Emirati nationality. The amendment stipulates certain conditions for each category and allows the naturalised citizen to retain his original nationality. )
one of the categories is the "investor"
Eligible candidates will need to:
Take the oath of allegiance and loyalty to the UAE
Commit to abide by the UAE's laws
Inform the UAE government entity, in case of acquiring or losing any other citizenship.
The citizenship can be withdrawn upon breach of the conditions.
How can you acquire UAE citizenship?
You can acquire the UAE's citizenship only through the Rulers' and Crown Princes' Courts, Offices of the Executive Councils and the Cabinet based on the nominations of federal entities.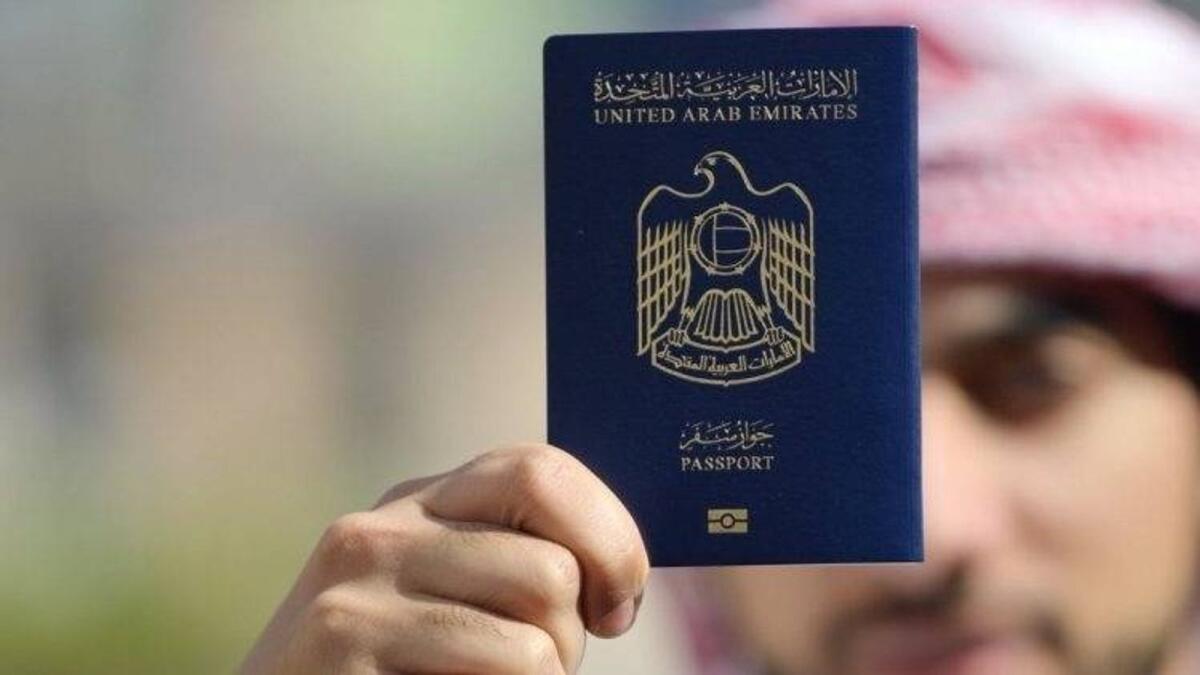 Ras Al Khaimah
Invest in RAS:
Recent changes to the UAE's citizenship laws mean it is now possible for select foreign investors to make strategic investments in one of the emirates that will drive economic growth. In return, investors can be granted citizenship.

Ras Al Khaimah is the UAE's northernmost emirate and the region's manufacturing center. It has an excellent logistics network, a thriving industrial sector, and world-class infrastructure. Its government has a visionary and innovative approach to business and actively encourages private sector development.
Ras Al Khaimah is fast becoming one of the region's most attractive business locations, destined for global success and with a firm commitment to embracing global citizens.
Visa-free or visa-on-arrival access to 167 destinations worldwide
Direct access to an established and proven international hub in Ras Al Khaimah with 40,000 companies, including free zone entities and certain mainland companies permitted to be 100% foreign-owned
Citizenship of a country that is a gateway to Africa and the Middle East, Asia, and Europe due to its strategic geographic positioning
Citizenship of one of the top 30 countries in the world for 'ease of doing business'
A favourable tax regime for investors — with no income, capital, or withholding tax (except for those levied in the domestic banking and oil sectors) and several double-tax treaties in place
Citizenship of a member state of the United Nations, the Gulf Co-operation Council, and the Arab League
Excellent private healthcare, with one of the UAE's most acclaimed private hospitals
Access to the UAE's next premier destination, with a burgeoning real estate market, excellent infrastructure, and leisure attractions
This highly exclusive offering is open to a select group of investors who will be given the opportunity to contribute to the economic growth and success of the emirate. Families may be included in their applications for UAE citizenship. The government of Ras Al Khaimah will nominate applications by those offering a significant contribution to the UAE federal authorities for approval.
1. Initial due diligence checks completed
2. GCI Unit by TCME Worldwide Group onboards client
3. Client introduced to the authorities of Ras Al Khaimah to discuss and identify strategic investment project
4. GCI Unit by TCME Worldwide Group assists client with preparation of citizenship application package
4 Client applies for and obtains UAE residence
5. Investment to be held in an escrow account
6. Application for citizenship processed and approved in principle by the federal authorities
7. Investment commitment fulfilled and application processing fee paid
8. Citizenship received
Main applicant requirements
A minimum age of 18 years
Police certificates of clearance
Proof of the source of funds
A strategic investment of AED
10 million (USD 2.7 million) to the emirate's global standing
A non-refundable contribution of AED 5 million (USD 1.3 million), after initial approval
Applicants should invest in innovative ventures that will
benefit the people of Ras Al Khaimah.
You get the right to live, work, and study in the UAE
Important Note:
The Company TCME Worldwide Group and his Partners is never been able to and guarantee a successful residency, visa or citizenship through his help. This is the sole responsibility of the decision of the authority.