CITIZENSHIP CARIBBEAN NEWS
OVERVIEW
The tropical islands of Antigua and Barbuda located in the heart of the Caribbean are the perfect idyllic place rich in vegetation, beautiful beaches, lagoons and abundant vegetation, with a very pleasant and cool weather around the year. Antigua and Barbuda is an independent Commonwealth state in the Eastern Caribbean with some 365 beaches of clean turquoise waters, the lush tropical islands are an inviting paradise and considered to be one of the most beautiful places in the world. Antigua and Barbuda are located in the middle of the Leeward Islands in the Eastern Caribbean, roughly 17 degrees north of the equator. To the south are the islands of Montserrat and Guadaloupe, and to the north and west are Nevis, St. Kitts, St. Barts, and St. Martin.
Temperatures generally range from the mid-seventies in the winter to the mid-eighties in the summer. Annual rainfall averages only 45 inches, making it the sunniest of the Eastern Caribbean Islands, and the northeast trade winds are nearly constant, flagging only in September. Low humidity year-round.
To apply for the Citizenship Program Antigua and Barbuda the applicant has to make a significant economic contribution to the country. The first option is to make a investment of minimum 100,000 USD to the National Development Fund. Second option is a designated investment in officially approved Real Estate with total value of a minimum of 400,000 USD. The investment must be kept for a minimum of five years and might be the case that investors have to pay some additional taxes and fees. Third Option is to make a business investment for Independent Investors or Joint Venture Investors starting with a minimum investment of at least 1,500,000 USD. We will guide you through the whole submitting process for the Citizenship Program Antigua and Barbuda.
WHY BECOME A CITIZEN OF ANTIGUA AND BARBUDA?
We suggest the Citizenship Program Antigua and Barbuda will offer our customers a lot of benefits.
Tourism continues to dominate Antigua and Barbuda's economy, accounting for nearly 60% of GDP and 40% of investment. The dual-island nation's agricultural production is focused on the domestic market and constrained by a limited water supply and a labor shortage stemming from the lure of higher wages in tourism and construction. Manufacturing comprises enclave-type assembly for export with major products being bedding, handicrafts, and electronic components.
Like other countries in the region, Antigua's economy was severely hit by effects of the global economic recession in 2009. The country suffered from the collapse of its largest private sector employer, a steep decline in tourism, a rise in debt, and a sharp economic contraction between 2009 and 2011. Antigua has not yet returned to its pre-crisis growth levels.
Prospects for economic growth in the medium term will continue to depend on tourist arrivals from the US, Canada, and Europe and could be disrupted by potential damage from natural disasters. The new government, elected in 2014 and led by Prime Minister Gaston Browne, continues to face significant fiscal challenges. The government places some hope in a new Citizenship by Investment Program to both reduce public debt levels and spur growth.
ANTIGUA AND BARBUDA PASSPORT
Antigua and Barbuda passport is issued to citizens of Antigua and Barbuda for international travel. The passport is a Caricom passport as Antigua and Barbuda is a member of the Caribbean Community. In 2016, Antigua and Barbuda passport holders enjoyed visa-free access, or visa-on-arrival, to 150 countries and territories, ranking as the 27th best passport in the world. Passport holders may travel to Hong Kong, Singapore, the UK and Europe, among others, with relative ease and without challenging visa requirements. As of June 27, 2017, citizens of Antigua and Barbuda will need a visa to visit Canada. From that date, any existing electronic Travel Authorization (eTA) issued to a citizen of Antigua and Barbuda will become null and void, and affected individuals who had previously been issued an eTA will no longer be able to use that eTA for the purposes of travel to Canada.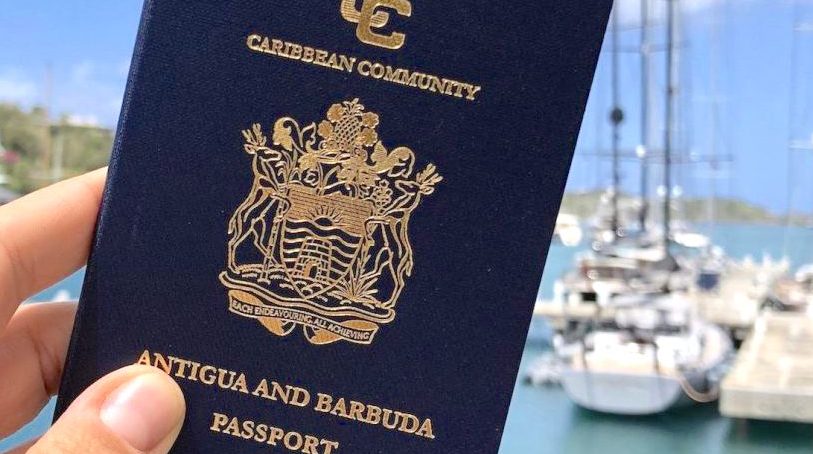 CITIZENSHIP PROGRAM ANTIGUA AND BARBUDA PROCEDURE
PROCEDURE PROCESS
The steps are mainly simple, particularly after signing service agreement, we will proceed as follows:
After all the above steps, we will collect the Citizenship Certificate and passport and deliver it to you in the most secure way.
CITIZENSHIP PROGRAM ANTIGUA AND BARBUDA COSTS
CONTRIBUTION TO GOVERNMENT DONATION (NDF)
Schedule of Fees for single applicant:
100,000 USD = Contribution
30,000 USD = Government Fees
7,500 USD = Due Diligence
+ Application Fee
Schedule of Fees for a family of up to 4 persons:
150,000 USD = Contribution include Government Fees
7,500 USD + 7,500 USD for spouse = Due Diligence
2,000 USD per dependent 12-17 = Due Diligence
4,000 USD per dependent 18 and over = Due Diligence

15,000 USD for each additional dependent of up to 5.

+ Application Fee
Business Investment:
The final option available to applicants for citizenship of Antigua and Barbuda is an investment in a business that has been pre-approved by the Cabinet. Approval by the Cabinet follows a recommendation by the ABIA, which in turn makes its recommendation after consulting with the CIU. Applicants may choose to invest as single investors, or together with other investors. As single investors, applicants must invest a minimum of USD 1.5 million. As joint investors, applicants must personally invest a minimum of USD 400,000, but the joint investment as a whole must be of USD 5 million. Application Fees: Further minor fees such as Official Government Citizenship Application Form, Citizenship Certificate and expedite passport fees are additional and subject to change, therefore prior verification with our company TCME Group Worldwide representative is required. Important note: This cost will be paid directly to the government appointed investigating agency. For application fees charged by The Consultant Middle East and exact quote based on your family combination, please contact us.
REAL ESTATES PROJECTS: CALLALOO CAY
Callaloo Cay is a unique and luxury multi-resort project and was developed in partnership with the government. This exclusive resort is built on prime beach-front and is offering first class facilities and amenities. Under the Redeemable Preferred Share Offer offered by the resort, the investors can renounce to the capital appreciation in exchange for a guaranteed return on investment after the mandatory 5 year "hold" period.