The Elite Visa was originally launched in 2013 and currently has between 20,000 and 30,000 members, according to local media reports. Chinese applicants in particular showed increased interest following the outbreak of the Covid-19 pandemic, and they now account for at least 30% of elite visa holders.
The detailed changes to the program are yet to be released by local authorities, but it is reported that the deadline for applying the current investment thresholds is September 15. The new changes are expected to take effect at the end of October.
The current elite visa of Thailand, advertised as "Exclusive Entry to Thailand", will soon undergo significant changes. This special visa grants foreign investors long-term visas for repeated trips to the Southeast Asian country. Prices for these visa packages start from as little as 600,000 THB (about US$17,000).
During the revision, it is expected that the required investment amount for the visa will be increased. A five-year renewable visa is expected to cost at least THB 900,000 (about US$26,000), while a 20-year visa will require an investment of THB 5 million (about US$143,000).
In addition to unlimited access to Thailand, a popular travel destination, the Elite Visa also offers a variety of privileges. These include annual health screenings, expedited airport and hospitality services, and access to various government services across the country.
Thailand joins other countries revising long-term investor visas to attract wealthy foreigners.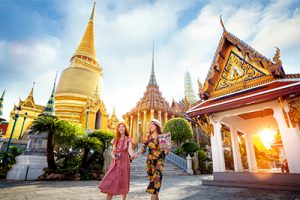 Interested investors have until September 15, 2023 to apply for the Thailand Elite Visa under the current conditions and thresholds.
Yuthasak Supasorn, the governor of the Tourism Authority of Thailand, stated that the long-stay visa aims to "position Thailand as an attractive destination for highly skilled foreigners to live in as well as do business."
The government hopes foreign investors will invest about 1 trillion Thai baht in the next five years. Applications for the program began in September 2022 and offers foreigners the opportunity to obtain a 10-year renewable visa as well as to apply for a work permit. Supasorn added that they aim to "attract foreign talent and expertise that can contribute to the domestic economy and support economic growth."
How to get a long-term visa for an extended stay in Thailand
If you are interested in a long-term visa, there are four categories that applicants can fall into.
The first category is for people who have at least $1 million worth of cash and assets. The next category is for people with a pension of at least $80,000. The third category is reserved for remote workers who are residents of Thailand and have earned at least $80,000 in annual income over the past two years. In this case, they should have five years of professional experience and be employed by a company with annual sales of at least $150,000 in the three years prior to applying.
The final category is for professionals with an annual salary of $80,000 and at least five years of work experience.
We believe the government is trying to attract more high-earning tourists or expats as Thailand's economy is heavily dependent on tourism. Tourism and export are their main sources of income.
The goals of the visa program for Thailand's economy
Patrick, a Dutch national who has lived in Thailand for 25 years, points out that many hotels in the country are empty or facing financial difficulties. He stresses that the country needs support to boost the local economy.
"The need is great as many low-income people are suffering the effects of reduced incomes. This will also affect other businesses and workers will not have enough money to spend or invest in other businesses. It's like a cohesive system," explains Patrick.
According to local media reports, Land Ministry Director Chayawut Chanthorn has confirmed that Deputy Prime Minister Prawit Wongsuwon has agreed to the Interior Ministry's proposal to lift this rule.
The government is currently examining the pros and cons of this policy and will make a decision in the foreseeable future.
—————-
The Global Citizenship Investment Worldwide Group is a leading professional International Business Investment and Advisory Firm for Foreign Economic Relations, with 17th. departments in different Countries and the Headquarter in Malaysia.
(GCI UNIT Worldwide), designs and implements customized, holistic strategies for successful investors and entrepreneurs to legally reduce their tax bills, diversify and protect their wealth, invest abroad, gain a second citizenship and live a freer life worldwide to lead.
YOUR CHANCE FOR A BETTER LIVE
GCI firm is a professional International Business Investment and Advisory Firm for Foreign Economic Relations. Our range of services includes:
• Offshore and Onshore Company Formation,
• international Business & Management
• Citizenship & Residency
Advice on residency and citizenship by investment programs, VIP citizenship programs in cooperation with more than 70 countries
• Investments & Corporate Financing
• Advisory for Foreign Economic Relationship
• Diplomatic Consultancy & Public Affairs
If you would like to discuss your internationalization and diversification plans, book a consulting session* or email us under: [email protected]
*A counseling session is a conversation about your portfolio and goals. It does not constitute legal, financial, tax or investment advice.
Department GCI – Unit Global Citizenship Investment (GCI worldwide)
by TCME Worldwide Group – Global Investments –
Level 33, Ilham Tower, 8 Jalan Binjai,
Kuala Lumpur 50450, Malaysia
www.tcme.company
www.citizenship-news.com
Phone: +66 99091 8357 also for WhatsApp